Through our ongoing research and efforts we are always continually striving to reduce our impact on the environment and ensure that our green message is a positive one. When you work with Hartgraph you can be confident in knowing that you are using one of the most sustainable and planet positive print and packaging companies in the industry.
World Land Trust
We are thrilled to be one of just a handful of certified Carbon Balanced Printers in the UK, supporting the fantastic work of the World Land Trust.
As a business we have measured and balanced the annual impacts of our fossil fuel usage, transportation and electricity consumption. These impacts are third-party verified, and balanced with the international conservation charity World Land Trust (WLT).
WLT offsets these emissions by protecting threatened habitats and wildlife that would otherwise have been lost, avoiding the release of stored carbon and enabling the regeneration of degraded habitats, which gradually re-absorb atmospheric CO2.

Forestry Stewardship Council® (FSC®)
We are an FSC-certified printer (FSC-C106360). When you see the FSC's "tick tree" logo it indicates that products are certified under the FSC certification system offering confidence that paper or board was sourced responsibly ensuring that our forests are alive for generations to come.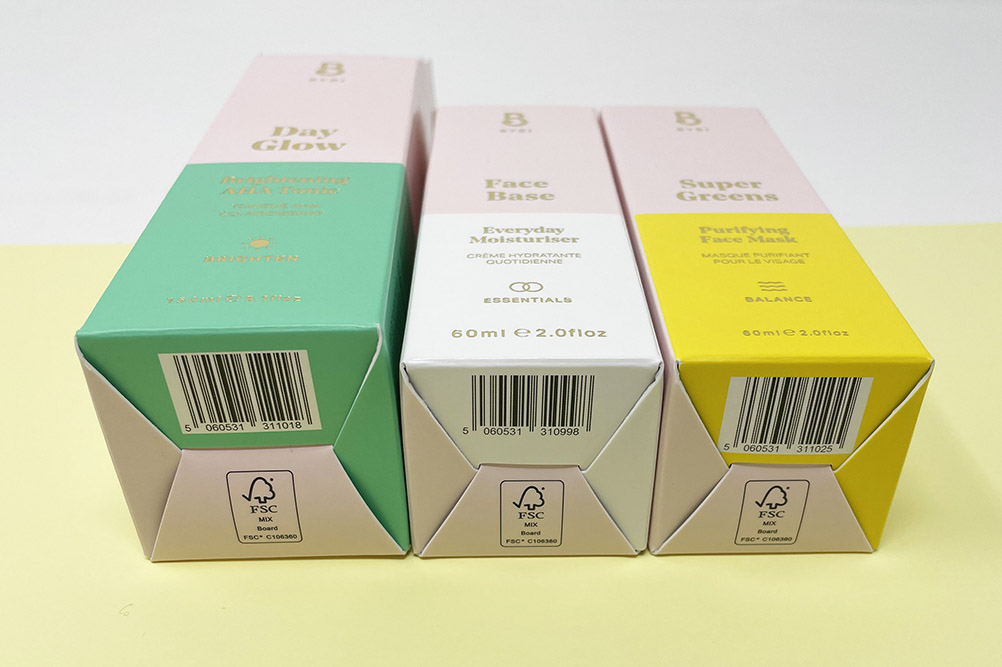 ISO 14001
As a business we are proud that in addition to ISO 9001 we have also been accredited with ISO 14001, this accreditation sets out a set of mangement standards put forward by the International Organisation for Standardisation (ISO). The purpose is to clarify the best practices for us to continually monitor our performance and work towards reducing our environmental footprint.
Recycling
Recycling is a part of our ethos, we have a full recycling program in operation with J & G Environmental, they handle all of our production waste through treatment, disposal and recycling, whilst Pulp Friction looks after our paper recycling.

Print
We use vegetable oil-based inks and water based varnishes to reduce our chemical output, our lamination and mailing wraps are biodegradable wherever possible. Foil stamped papers are fully recyclable, re-pulpable and biodegradable.
Power
We have signed up to a renewable energy source, meaning that any electricity that we pull from the grid is matched with energy created from a renewable energy source such as wind and photovoltaics. Certification can be provided for this on request.
"A huge thank you for all of the printing that you turned around for us so quickly over this weekend. I really appreciate the ease of working with all."
"Absolutely over the moon. It all looked awesome and the samples fitted into the boxes perfectly. Good job."
"Hartgraph are consistent in their service to us as a supplier, communication and response is always clear and precise and delivered in a timely manner."
"I can't tell you how much I appreciate this. Thank you yet again for saving the day."
"I have just showed the team the boxes you dropped off and they think they are great! Thank you so much, this was such an easy process to get everything organised with you. 😊"
"It was a pleasure to work with you on this project. Thank you for all your time and effort - it really made the difference and I think it looks great, the client was super happy. "
"It's amazing what we can achieve when we put our heads together! We make such a good team!"
"It's arrived! Excellent service and it's looking very good. The colours are popping right off the page - they look fantastic and true to the proofs. Thanks all for your help as always. "
"Just a quick note to comment on the excellent print and finishing of this job it looked really good!!"
"Thank you for sending the cartons. We received it fine and they look AMAZING. We couldn't be happier."
"Thank you for sending the cartons. We received them fine and they look AMAZING. We couldn't be happier."
"Thanks so much for all you did to create such a gorgeous mock-up of our brochure. It looks great! We sincerely appreciate your attention to detail on this project! "
"Thanks so much for all your hard work. We appreciate this was very rushed and complicated at times, so we really appreciate your can do attitude! 😊 Pleasure working with you! "
"Thanks to all of you for the fantastic product you produced. It went down a storm."
"The AR brochure looks pretty perfect to me! Brilliant print and finishing job so thanks to all of you in making it look wonderful - I knew I could trust you!"
"The work you've done for the club over the last twelve years or so, often at ridiculously tight timescales, has been wonderful, and I felt it was time I publicly acknowledged that."
"They were absolutely over the moon with them and wanted to pass on their thanks too. It all looked awesome and the samples fitted in the mock-up boxes perfectly. Good job."
"They're stunning. You have done an amazing job and got us out of a sticky situation. THANK YOU! "
"We've just received the brochures and we absolutely LOVE them! Thanks so much for your help and getting these to us so quickly - the team are incredibly pleased. "
"What can I say dude, PERFECT!!! I'm so happy with them! You're awesome at what you do dude, the quality is second to none! "
How You Can Get Involved
We know that many of our customers strive to be environmentally conscious too. Here is how you can get involved:
FSC® – by speaking with us and selecting a certified paper or board, we can place the FSC logo on your print, offering your clients/customers assurance that you are purchasing responsibly.
World Land Trust – as a business we are now carbon neutral, to ensure that your printed piece is fully carbon balanced, you can choose to carbon balance the paper. This would enable you to place the World Land Trust logo on your print with the message that both the print and the paper are carbon neutral.
We would be happy to discuss both of these options with you in greater detail, so please do get in touch with our sales team on 01628 810523.